2017 Total Net Shipments by U.S. Region (Source: Urban Van Lines)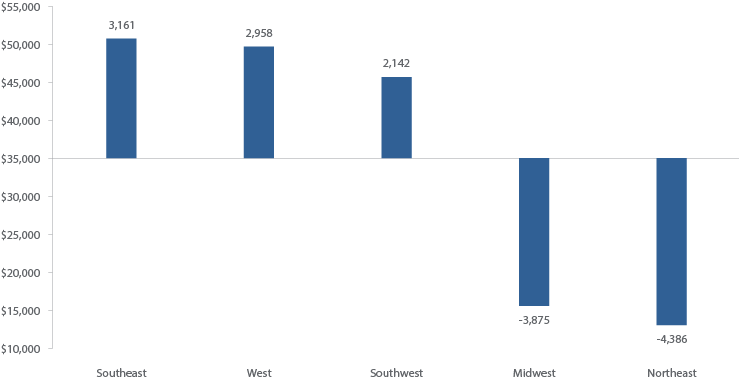 Oddly, there is something else remarkable about
this same section of the nation… there aren't as
many robots living there…
How much does it cost to move?
The American Moving and Storage Association states that the average cost of an
interstate household move is about $4,300 (distance of 1,225 miles) and the
average cost of an intrastate move is about $2,300 (four movers at $200 per hour).
Both average moving costs are for 7,400 pounds. April 6, 2016.
While Americans seem to be staying put a bit
longer these days, 20 percent of millennials said they were
likely to move in 2016.
Millennials are less likely to move than prior generations of young adults
% of 25- to 35-year-olds who moved in the previous year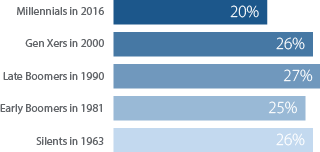 Note: The migration rate refers to the share living at a different address one year earlier
Source: Pew Research Center analysis of Current Population Survey, Annual Social and Economic Supplements (IPUMS).
PEW RESEARCH CENTER
Population growth rates for educated millennials, or those
age 25 to 34 with a bachelor's degree or higher
Educated Millennials Population Growth Rates in the
33 Largest U.S. Metro Areas, 2010-15
Educated Millennials
Core City Population
Percentage Growth,
2010-15
Educated Millennials Metro Area (excl. core city) Percentage Growth, 2010-15
Ratio of Core City Growth to Metro Area Growth, 2010-15
Chicago
15.27%
0.98%
15 .62
Austin
50.33%
5.59%
9.01
St. Louis
33.69%
3.97%
8 .49
Detroit
78.29%
10.88%
7.19
Riverside/San Bernardino
31.68%
4.42%
7.16
Las Vegas
23.32%
6.60%
3.53
Washington
31.15%
11.33%
2.75
Boston
38.25%
14.3 1%
2.67
Pittsburgh
48 .47%
20.94%
2.31
Columbus
30.47%
13.67%
2.23
Kansas City
20.73%
9.57%
2.17
Denver
43 .85%
21.14%
2.07
Atlanta
26.41%
13.11%
2.01
Orlando
53.03%
26.98%
1 .97
Cincinnati
13.50%
7.85%
1.72
Dallas
34.30%
20.21%
1.70
Phoenix
26.24%
15.70%
1.67
Miami
42 .51%
28.76%
1.48
New York
20.81%
14.19%
1.47
Baltimore
26.28%
17.98%
1.46
Seattle
38.82%
30.36%
1.28
Minneapolis/St. Paul
19.03%
14.9 1%
1.28
Cleveland
15.61%
12.96%
1.20
Philadelphia
38.26%
32.21%
1.19
Houston
32.25%
28.60%
1.13
Tampa/St. Petersburg
24.18%
23.32%
1.04
Los Angeles
19.80%
19.13%
1.03
San Diego
27.20%
27.49%
0.99
San Francisco/Oakland
24.79%
32.36%
0.77
Portland
24.18%
31.61%
0.76
Charlotte
29.11%
49.27%
0.59
San Antonio
11.27%
21.55%
0.52
Sacramento
9.66%
19.61%
0.49
Here's what we take away from this: